About Us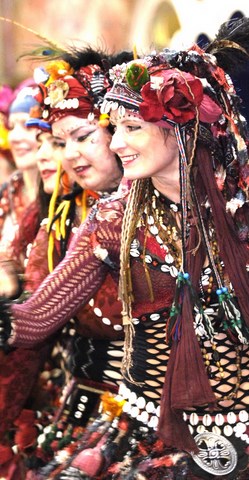 Zehara founder of Urban Gypsies started 2001 with students from her Belly Dance Classes. Evolving a vibrant, energetic style with elements of Belly Dance and African.
The groups costumes are Zehara's unique creation inspired by tribal costumes from around the world, nature and using recycled treasured items in creative ways.
Urban Gypsies successfully got through to the semi finals of Britain's Got Talent (click on picture)


Our Specialities
Walkabout and mix n mingle entertainment with the colourful Urban Gypsies Dance group

Participation in Carnivals Festivals and Parades

Provide excellent interactive dance entertainment at Parties and Weddings to get the party started !

Community Taster workshops

Entertainment packages for Nursing Homes and Sheltered Housing. Ideal for a colourful hour of Music and Dance and Singalong Entertainment.

Dance workshops in simple Belly Dance and Hula movement available with Zehara.

Our fees are very affordable and value for money and we consider funds available for community situations

What can Zehara and her Urban Gypsy group do for you?
Lift your Spirits make you smile escape from reality for a while